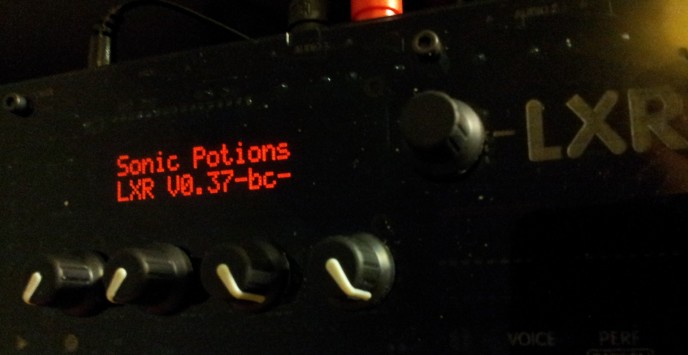 For the past few years, I've been plugging away at updating the code of the sonic-potions LXR Drum Machine, a versatile digital drum synth with a powerful sequencer that is both open-source and open-hardware. The updated firmware (available here, and hosted on GitHub here), aims to expand what can be done with the LXR, without altering the standard workflow or changing its sound. Any files made with the original firmware are compatible with my updated one. However, files saved with the custom firmware may not load, or may not load correctly in the stock firmware, so make sure you back up your SD card before trying the new firmware out!
LXR – firmware and running list of feature additions
I've tried to keep the menu as intelligible as possible. Rest assured, all the things that you might have done with the original LXR firmware can be done with this one, too. However, a number of the new functions require some explanation, as they aren't documented in the manual. To help new users, I've created a series of tutorial videos to show some of the things that can be done. If you use this firmware and have developed a workflow that I don't mention here, please let me know in the comments, too!
Video 1 – General Overview, New Menu Items
A brief introduction into what looks different about the menu items. In short, not much! I've tried to keep the menu as similar as possible to the LXR. The highlights are individual voices under the 'Load' menu, 'instant' pattern switching, and the expanded 'PERF' mode menu. There is a lot of talking in this one, bear with me!
Video 2 – New Voice and Sequencer Options
Covers the one expanded voice option – one-shot LFO waveforms – and a number of sequencer enhancements. Track scaling allows for a more extensive use of the LXR's 128 step sequencer. New copy functions allow individual tracks to be copied between patterns, and steps and sub-steps to be copied within tracks. The rotate function of the pattern generator can be used non-destructively on existing patterns to change step positions. There is a new automation target that morphs the target voice independently, that can be set both to step automation and voice modulation destinations. 'Automation-only' steps can be set by assigning a velocity of zero.
Video 3 – New Performance Options
By far, most of the enhancements improve the LXR for live use. Instant pattern switching, individual track pattern switching, enhanced rolls, transpose, macros, and the looper are covered, with some methods for combining them.
Video 4 – MIDI Features
Details some of the new things that can be done with the LXR over MIDI, and some of the changes to how the LXR responds to channels and MIDI messages.